Details & signs of wear
Shipping and returns
The Zeitgeist Mission
Details
Dieses Teil ist ein einzigartiges GAP Einzelstück mit ausgefallenem Logo Stick ca. 2000er
Material: 100% Polyester
Era Estimate: ca. 2000er - Made in Thailand
Gebrauchsspuren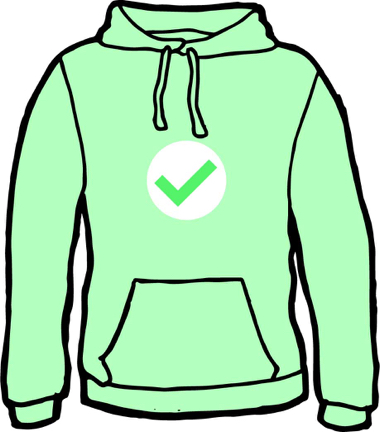 Details: Dieser Artikel hat keine oder nur unscheinbare Gebrauchsspuren.
Größeninformationen
Schau in die Grössentabelle um zu sehen wie genau wir messen.
Label Größe
XXL
Unisex Empfehlung
M
Men Empfehlung
S (True To Size)
Women Empfehlung
M (True To Size)
Piece Abmessungen:
56cm Kragen bis Saum
49cm Ärmellänge
50cm Achsel zu Achsel
In Deutschland erhätst Du ab 35€ Bestellwert Gratis Versand und kostenlosen Rückversand.

Versandkostentabelle:
| Land | Versanddauer | Kosten |
| --- | --- | --- |
| Deutschland | 1-3 Tage | 4,90€ ab 35€ Bestellwert Gratis |
| Europa (EU) | 3-5 Tage | 9,90€ ab 60€ Bestellwert Gratis |
| USA & Canada | 7-14 Tage | 11,90€ ab 80€ Bestellwert Gratis |
| Rest der Welt | 7-14 Tage | 19,90€ ab 150€ Bestellwert Gratis |
Slow statt Fast Fashion
Second Hand spart Ressourcen und schützt unsere Umwelt. Im Gegensatz zu Fast-Fashion tust Du so etwas Gutes für Dich und die Welt.
Junges Start-Up unterstützen
Uns gibt es erst seit Mitte 2020. Mit deiner Bestellung unterstützt Du uns, in unserer Mission die Fashion Welt nachhaltig zu verändern.
Nachhaltig Verpackt & Versendet
Unsere Verpackung und unser Versand sind CO2 neutral. Die Versandboxen und Taschen sind zu 100% aus recyceltem Papier. Pro Box wird sogar 1 Baum gepflanzt.
Schneller & Kostenloser Versand
Kaum bestellt und schon geliefert! Über 95% unserer Bestellungen kommen innerhalb von zwei Tagen bei unseren Kund*innen an! Und das für Dich kostenlos!
Zeitgeist Vintage ist dein Secondhand & Vintage Online Shop.
Wir haben das Startup Zeitgeist in Hamburg gegründet und verkaufen seitdem Vintage Mode in die ganze Welt.
Das Startup Zeitgeist wurde von 5 Freunden gegründet, die die Liebe für Mode und das Bewusstsein den Fashion Einkauf nachhaltiger zu machen einte. Wir arbeiten stetig daran, unsere Vintage & Secondhand Kleidung und somit deinen Einkauf bei uns noch besser zu machen. Solltest du dennoch eine Frage habe, erreichst du uns ganz bequem über den Chat auf dieser Seite.